MASTERING TRADITIONAL LEATHERWORKING BASICS
Simple methods for beautiful leathergoods everytime.
You're a student of the University of Youtube, but you're NOT getting the answers you're looking for.
You want to make leathergoods THAT LOOK PRO AND HAVE A WOW FACTOR!
All you need are the right tools, materials and techniques.
But it's hard to know which tools you REALLY need.
And what types of leather should you use AND WHEN?
And how the heck do you get those PERFECTLY SLANTED saddle-stitches?
You love working with your hands, and that makes leathercraft the perfect hobby for you.
The problem is, you're just not sure how to get started.
The tool and leather options alone, are overwhelming and you don't want to waste money buying the wrong thing.
You know what you want to make, but when you go to buy the leather you're so confused by all the options… chrome tanned, veg tanned, oil tanned

You want to learn how to do it right because if you're going to put all of the effort into making a leather bag, wallet or belt, you want it to look professional when you're done.

You watch youtube videos, but half the time they leave you more confused or wondering if there is a better way to do it.
You know that people have been doing leatherwork for 100's of years.
And if you could learn those traditional methods you'd be able to make beautiful leathergoods too!
Before I learned leathercraft from a master leatherworker, I had no idea where to start.
But once I took that course, learned about tools and materials, how to saddle-stitch and finish my edges and assemble a leathergood, I was creating leathergoods that were super pro!
Here's what your leather hobby is about to look like...
You buy the right tools and materials upfront and never waste money on things you don't need.

You buy the exact type of leather that is right for your projects, because you know the difference between chrome tanned, veg tanned, oil tanned etc.

You've learned how to do leatherwork right so you get amazing professional results with every project.

You can say goodbye to watching blurry and confusing youtube videos, because you know how to saddle-stitch, finish your edges and assemble beautiful leathergoods every time.
I know you're nervous about wasting money on tools and materials that aren't right for your projects.
There is nothing worse then spending $200 on a side of leather, and being disappointed when you get it and start to use it.
But you won't need to struggle with this after you get through Mastering Leatherworking Basics because you will know exactly what tools and materials you need for your projects.
INTRODUCING
MASTERING TRADITIONAL LEATHERWORKING BASICS
A 5 week course that will allow you to master traditional leatherwork basics easily, so you know exactly how to make any basic leathergood and get professional end results that you're looking for.
Say goodbye to scouring Youtube and the internet for the answers.
With MTLB, you'll have all of the info you need in one simple guided course.
MTLB is all about saving you money, saving you time and giving you the best techniques so you can produce your best work.
MTLB is all about TOOLS, MATERIALS and TECHNIQUE.
Access Section 1 immediately and a new section will become available to you each week.

Hey I'm Mary,
And I too am a former student of the University of Youtube…
But then I got the opportunity to take a workshop with a master leatherworker who apprenticed and worked for Hermes, the luxury leather company, for 14 years.
This workshop was AUHMAZING. (thats me during my workshop ->)
I not only learned about tools and materials in the workshop, but I also learned the importance of craftsmanship and doing things the right way from the start.
After learning from my teacher and continuing my own self education, I started my own handbag line.
I know firsthand how frustrating it can be to search online for answers that just aren't there so i've create a resource for aspiring leathercrafters that I wished existed when I was looking for it.
And thats how Mastering Traditional Leatherworking Basics was born!
It's easy to make beautiful leatherwork with attention to craftsmanship once you know and master the basics.
Here's what you'll master in MTLB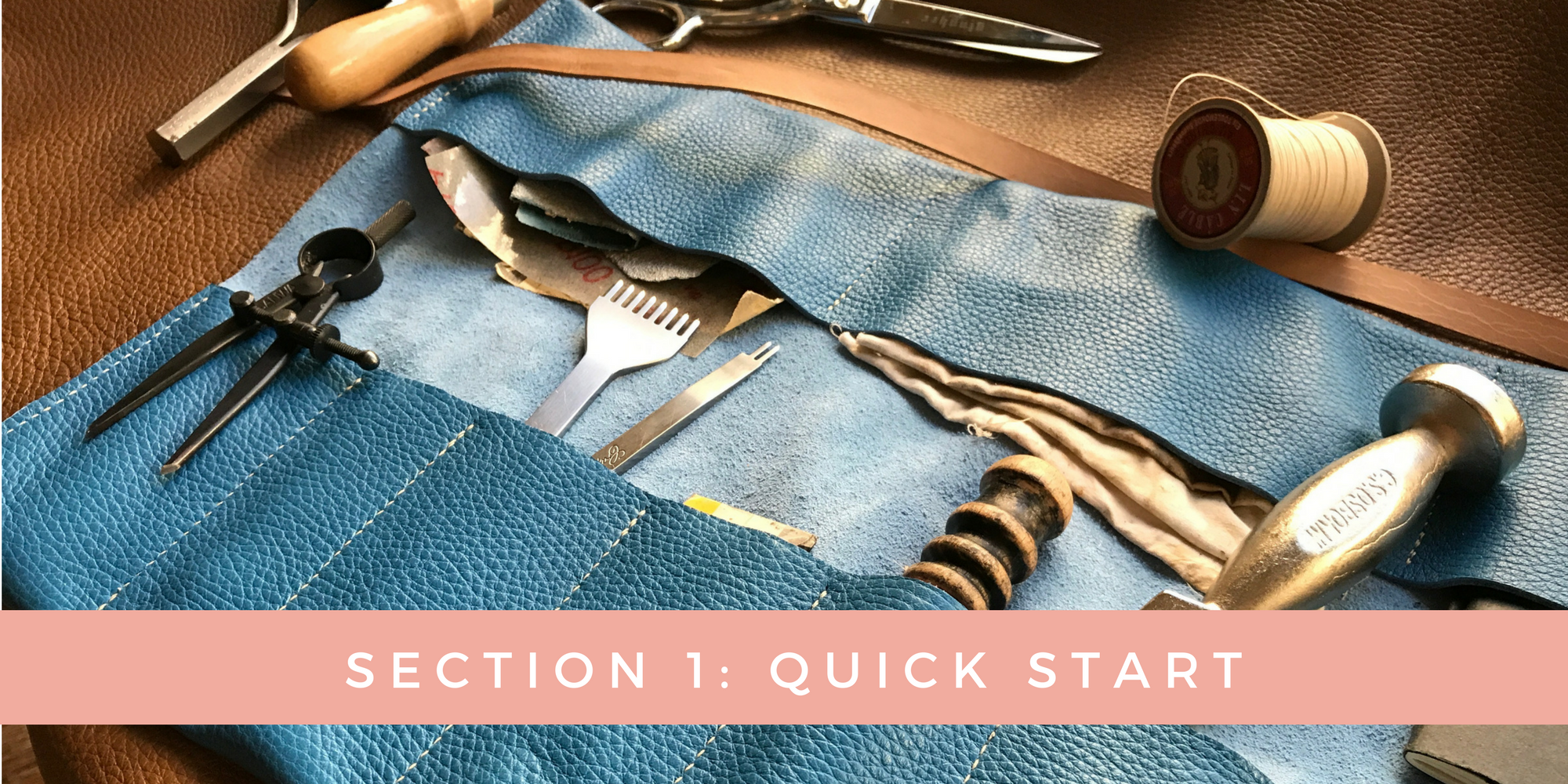 SECTION 1: Quick start
in 3 easy steps.
Step 1: Gather your essential toolkit.
Step 2: Shop for leather.
Step 3: Gather linen thread and hardware needed for the projects.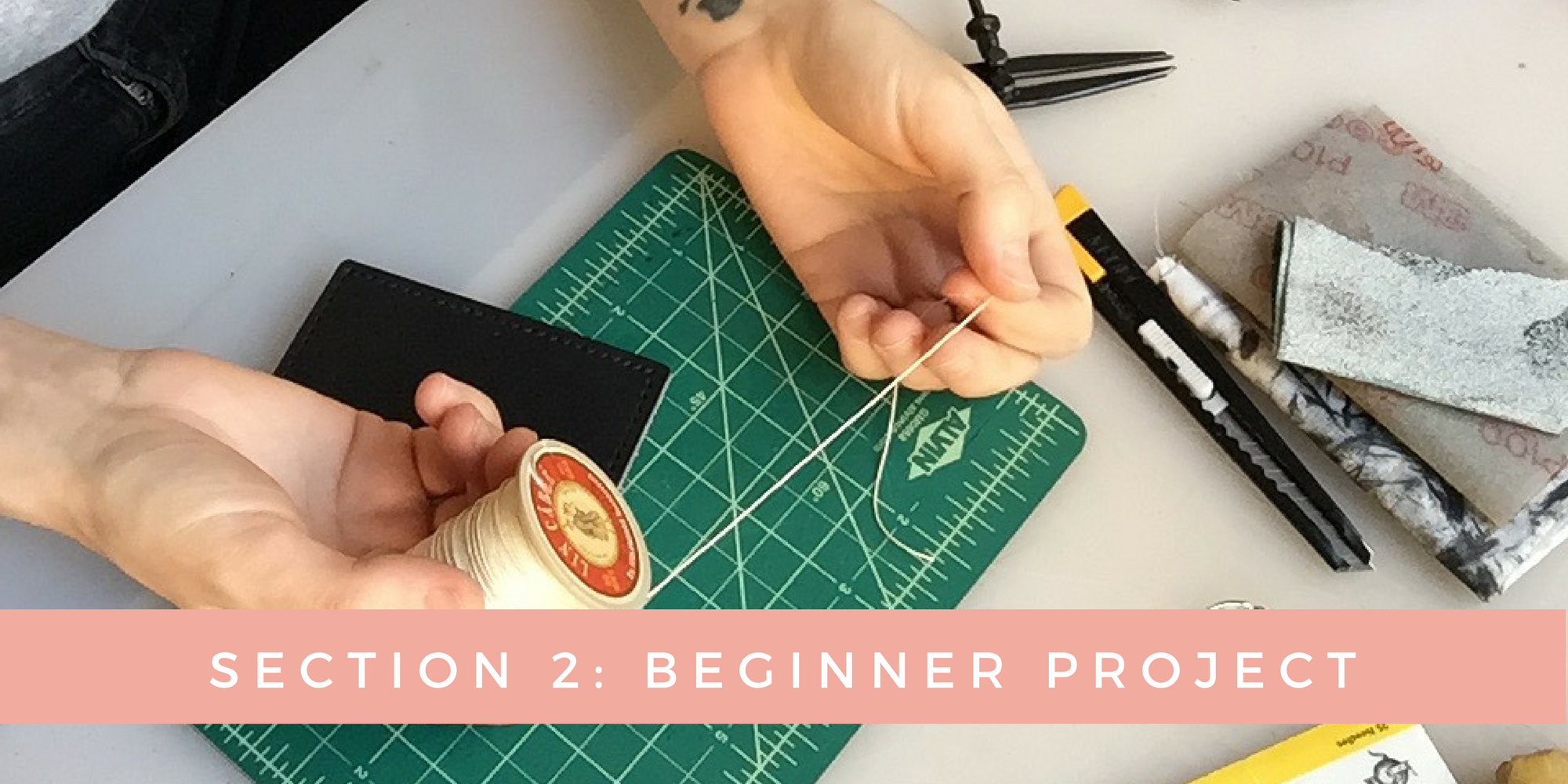 SECTION 2: B
eginner Project Mousepad/trivet
Once you have completed the beginner mousepad project, you will know how to complete the 6 basics steps to any basic leathergood.
You will learn proper methods for cutting leather, creating stitching guidelines, creating stitching holes using stitching chisels, saddle-stitching and edge finishing.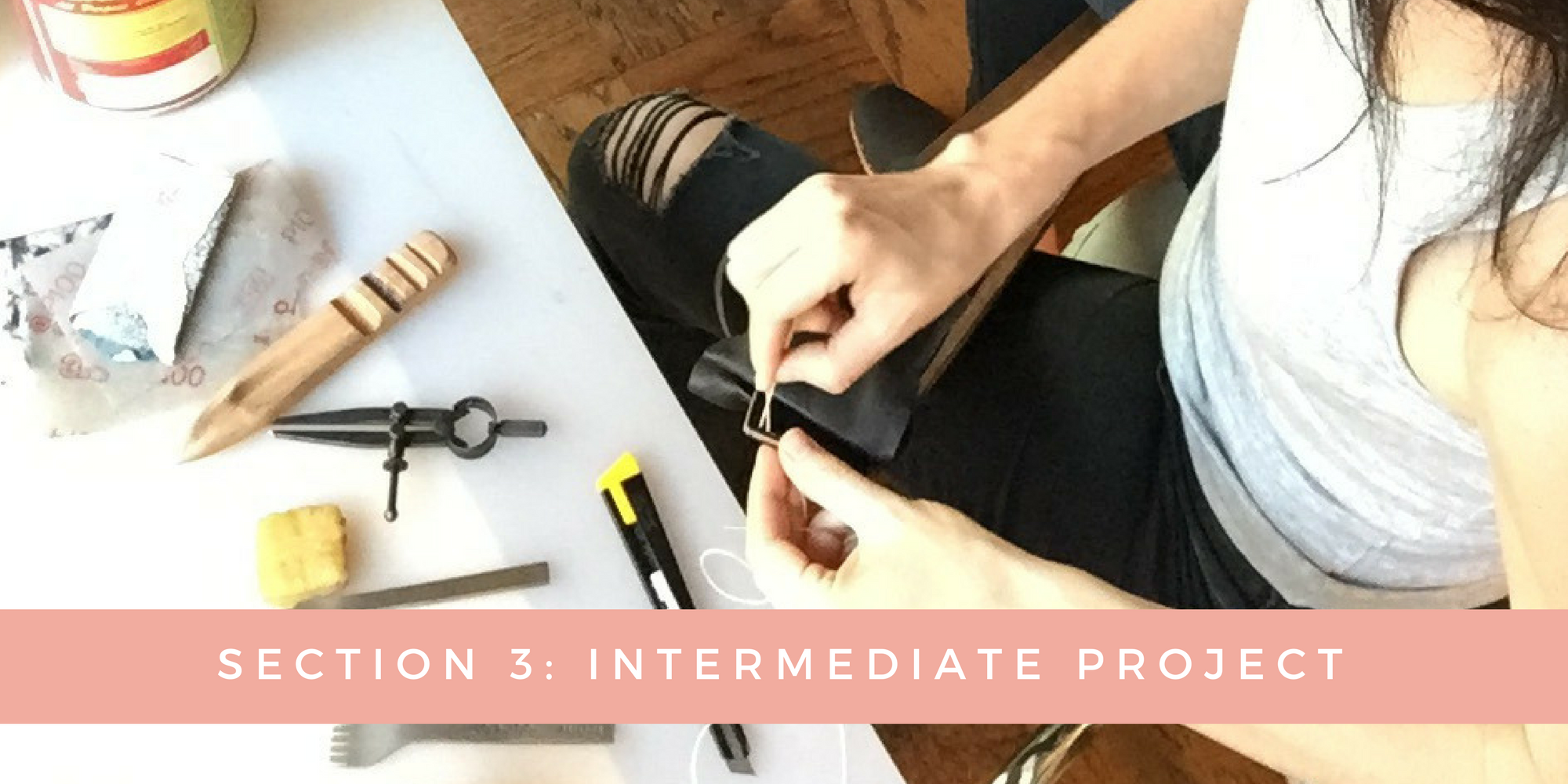 SECTION 3: Intermediate Project
Long Wallet
In this project you will build on what you learned in the beginner project and learn intermediate techniques.
You'll learn how to hand skive, how to cut rounded corners and how to set snap hardware.
SECTION 4: Advanced Project
Leather Tote Bag
Friends will be so surprised when you tell them that this sleek and functional tote bag was made with your own two hands.
In this project we'll learn how to make handbag straps and use some new tools including the rotary punch, strap cutter and rivet setter.
SECTION 5:
Advanced Tools and Materials
Learn the 3 additional tools that i'd recommend adding to your tool kit and how and why to use them.
Learn about additional leather terms, what they mean and how to interpret that when it comes to shopping.
Learn how to source the best quality hardware to use in your projects.
TOTAL VALUE: $1500
YOUR VIP EARLY BIRD INVESTMENT: ONLY $297
Join us now for 1 payment of $297 or 4 payments of just $97
YOU'LL ALSO GET THESE BONUSES..
LIFETIME ACCESS TO THE COURSE

THE WORKBOOKS WITH CHECKLISTS, REFERENCE GUIDES AND SHOPPING LISTS

AND ACCESS TO THE MEMBERS ONLY PRIVATE FACEBOOK COURSE GROUP

AND THESE 2 PROJET BONUSES…
TOTAL VALUE: $1800 ($1500 course + $300 bonuses)
YOUR EARLY BIRD VIP INVESTMENT: ONLY $297
GET STARTED IN 3 EASY STEPS:
1 - Click enroll now and proceed to checkout
2 - Check your inbox for the welcome email
3 - Login in and access Section 1 immediately
Enroll in Mastering Traditional Leatherworking basics now.
UNCOMPLICATED LEATHERWORKING METHODS THAT GIVE YOU BEAUTIFUL LEATHERWORKING RESULTS
EARLY BIRD VIP
SINGLE PAYMENT OF
$297
(NORMALLY $397!)
EARLY BIRD VIP
4 PAYMENTS OF
$97/MO
(NORMALLY 5 PAYMENTS OF $97)
+ What makes your course different then the others online?
This is a great question. First, my course is more like a program, starting with the very basics like getting your essential toolkit together, learning about leather types and then learning the techniques from beginner to advanced. So you'll never have to break out into a sweat trying to figure it out on your own ever again. And additionally, I studied leathercraft under a master leatherworker who apprenticed and worked with Hermes, the luxury leather company for years. I've pulled in just about everything I learned from her into my course, but made it even simpler! So if you're into polished refined results, this course is for you.
+ Money is tight. Can I afford this course?
No one knows your finances better then you, right? So you have to make that decision but what I can tell you is that if you plan on selling your work in the future and creating a side hustle, then perhaps this course is the investment into your future side hustle. And since it's an investment you'll make back the cost of the course and then some! And I do also offer an affordable payment plan which means you can get started for just $97.
+ I don't have a lot of spare time. How long does it take to get results?
How much time have you already spent googleing which tools you need and finding all of the conflicting info on this topic on line? How many different leather websites have you visited only to get frustrated and buy nothing because you're not sure what kind of leather to get and you don't want to waste money? MTLB, will save you all of that time you spend on googling. You'll learn it all in MTLB.
This program is designed not to be complicated but to be easy to follow and not be a huge time commitment. In the second week you will have already learned how to saddlestitch and edge finish after completing the beginner project!
+ I hesitate to sign up because while I'm definitely a hands on type of person, I prefer to have someone see me at work and tell me what I'm doing wrong.
I get that, as I mentioned earlier that is why I went to took an intensive in person workshop from a master leatherworker. But this just isn't an option for a lot of people. If you can afford it, you should definitely do this, but between the cost of travel and course which is over $3k and taking time off work it's just not super feasible for most people.
With MTLB, you get the step by step methods that I learned so you can get great results pretty much right off the bat with a little practice. And you can do it on your own schedule from your own home.
+ I have zero previous experience with leatherworking. Is this a good course for me?
Absolutely! This course was especially designed to cover all of the basics and assumes that you have no prior knowledge. That said, it is also appropriate for any beginner leatherworker that might not be sure that their techniques are correct or who wants to brush up on their basic beginner skills.
+ I don't know if I have what it takes to create beautiful leathergoods..
Ok, time for a little pep talk...
Do you have the desire to learn? Are you willing to follow each step as tedious and minor as it might seem? Do you have the passion to learn and practice a new skill in order to get great results? These are the only 3 things that you must have in order to master traditional leatherworking basics.
And what I love so much about traditional leatherwork is how uncomplicated it really is. There are only 20 tools in the toolit and about 6 major phases to any basic leathergood.
Making an apple pie has more steps than that!
As long as you pay careul attention to each step and work with precision, you can master traditional leatherworking basics.
+ I have more questions. What should I do?
Please email me! I'm happy to answer any questions that you have! I respond to all emails personally. Email me directly at info@leatherbeast.com.
PROVEN METHODS THAT WORK - GUARANTEED
I've created an ecourse that gives you step-by-step instruction for how to create beautiful traditional leatherwork using methods that i've gathered as well as methods from artisans with many years of leatherwork experience so I know that the techniques and methods work.
That is why, I'll let you try the course for 1 week
If you're not satisfied, i'll give you a full refund no questions asked. Click here to see the full refund policy.
START MASTERING TRADITIONAL LEATHERWORKING BASICS TODAY.
WHAT ARE YOU WAITING FOR?
Bottom line is, I know what it's like to struggle for answers.
But if you're ready to follow the simple step by step process that i've laid out (all based on what I learned from a master leatherworker) i'm happy to guide you along and watch as you become a master of traditional leathercraft.
Are you ready to make leatherwork that will make people say,
"You made that??"